I had to pick up the same puzzle pieces five times, only to discover pieces were missing.
The cat knocked over my dried eucalyptus, breaking a stem and tearing some leaves off.
I found my "Spring Tea" hat only to discover it was smushed and the green beads that decorated the hat were falling off.
I had to pick up Meg's gem collection again.
I found a craft brad with "Route 66" on it and I remembered "gettin' my kicks" on it when we were in Springfield.
I am always cleaning up messes.
Messes are ugly.
or are they?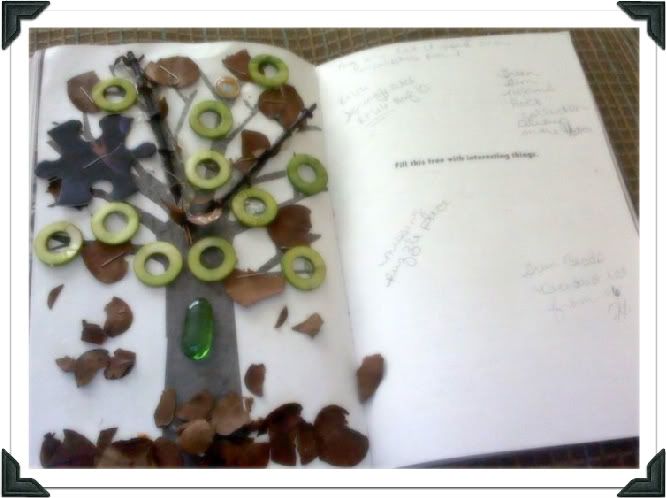 My mess, remade.
All the things I had stepped on, lost and found, drove me crazy, made me sad and made me remember all on this tree. It felt good.
My stapler loves to jam leaving me with crooked staples. They litter my counter tops and fall to the floor.
Glue and throw.


No rhyme or reason. It just happened like that. I added the bottle top: it reminded me of
Carl and Ellie.
They always make me smile.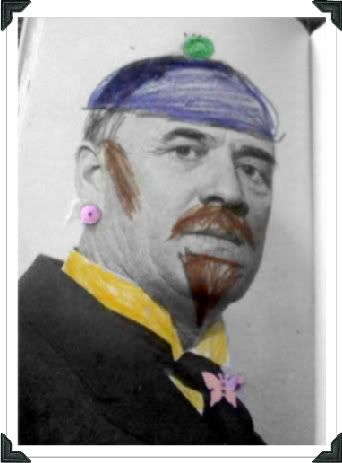 So does he.
You should have seen him before, he was such a drab.
All these pictures were done in the, soon to be released, book "
Mess: The Manual of Accidents and Mistakes
" by
Keri Smith
.
I received an advance copy of "
Mess: The Manual of Accidents and Mistakes
" to preview: please note I would not write anything about it here if I didn't love it.
And I love it.
The idea that life is messy so enjoy is something every person should embrace. Take a second glance at the things that don't go the way you plan.
Find beauty in the random.
Disclosure: "Mess: The Manual of Accidents and Mistakes" will be available in bookstores Sept. 7 2010, but is available for pre-order at Amazon and other online book stores.
I received an advance copy of the book to read and do, the opinions and pictures above are my own. I was given no money to write this post.