Make no mistake I am nervous, with a capital N, about this car trip with the kids. Five plus hours one way. No T.V. with fancy DVD player for us. We rely on imagination. Yes, I am crazy. Yes, I do have a death wish.
Last year on our five hour tour I used cookie cutters as trays for the kids to color.
I discovered the wonder that is audio books from the library. My kids love listening to chapter books and can recall story plots and details. Makes a momma proud.
Now this year I had a moment of genius, which does not happen that much.
A travel workbook.
Games.
Puzzles.
Stuff to learn.
Things to keep the minds busy.
What more could you ask for?
So here is how it is done!
3 ring binder. I purchased mine at The Dollar Store.

Plastic paper sleeve/ The Dollar Store again, they sell packs of 25 plastic sleeves.

3 ring binder pencil case. Wal-mart has these pencil cases right in their "Back to School" section.

Dry erase markers. I spent a little more money on these to get the bright colors. A pack of eight has pink, purple, green, orange.....The Dollar store sells dry erase markers as well but in more basic colors.

Cloth washcloth, the thinner the better. I took an old cloth and cut it into four squares.

Printable puzzles and car games. See below for suggestions and links.
Now for the simple steps:
1.Take one of your printable puzzles and stick them in one of the clear plastic sleeves. I placed two puzzle/games, front to back, into each sleeve.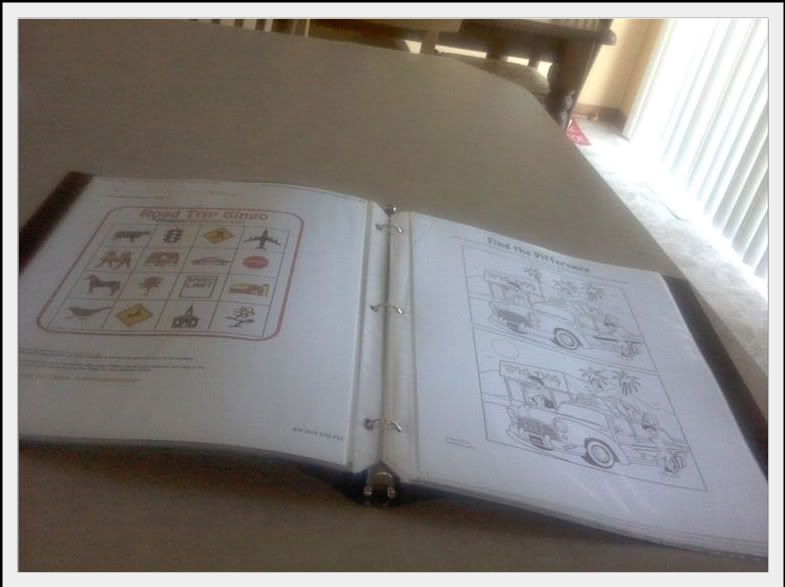 2. Place each sleeve into your three ring binder.
3.Take your dry erase markers and pieces of cloth and put them into your pencil case.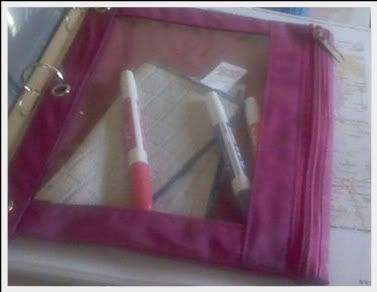 4.Put your pencil case into the 3 ring binder.
Now for the magic
Play Bingo, color all over your plastic covered puzzles and games and then....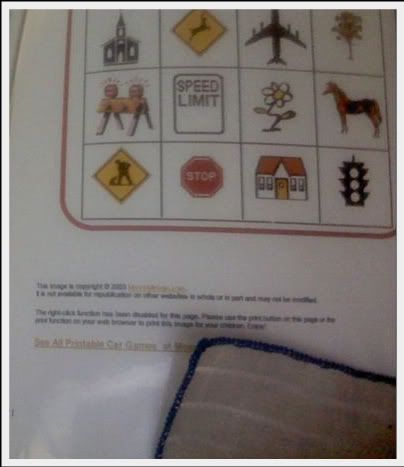 It's wipes clean! Now you can OHHH! and AHH!
Car Bingo can be played over and over. Puzzles can be done and mistakes can be erased.
What to put in your travel binder
I did the hard work so you don't have to. Aren't I nice??? Here is some of my ideas, if you have any PLEASE leave them in the comment section. I love, with a capital L, new ideas.
1.I went to Google maps, go to "
Get Directions
" and fill in your travels plans. What is great about this is the children get, not only a map of where we are going, they also get a numbered trip planner. As you pass each mark the kids can cross it off!
from Google Maps


2. Roadside Bingo and Travel Scavenger Hunt from
Momsminivan.com.
This site is a great resource, lots of fun stuff.
3. Find the Difference Travel Puzzle at
Disney Family Fun.
4.Dora Dot to Dot for the little girl at
Nick Jr.
(Lots of other printable at Nick Jr.)
5. Map of the USA at
National Atlas.gov
6. I put in special coloring and facts sheets for our specific destination.
7. Using a word processing program write out the alphabet, space it out and place into two columns. Their are endless alphabet games and the kids can check off the letters as they play.
8. More dot to dots at
Raising our Kids
and
ABCteach
9. Mazes at
All Kids Network
All you have to do is search "Printable Worksheets" or "Printable Puzzles" and you will have an ENDLESS supply of fun stuff to keep the kiddos busy and happy!
I invested a couple hours into this project, but I think it will be well worth it.
Here are the finished books...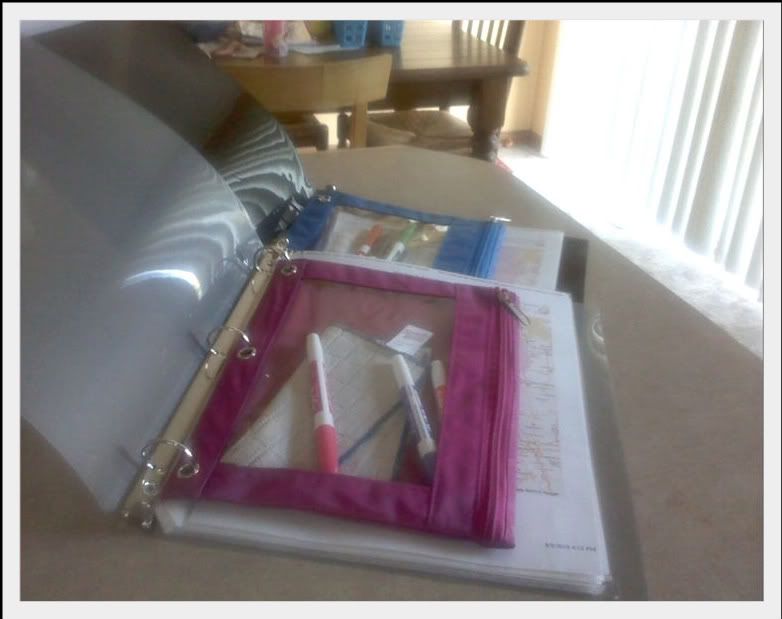 Happy Travels!!